Towson
Lock and Key Services in Towson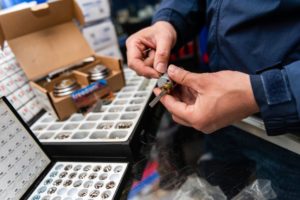 Nestled in the suburbs of Baltimore County, Towson is home to thousands of people and showcases a welcoming community culture. An array of universities encompass the surrounding area and historic Baltimore City is only a short drive away. This ideal location attracts Baltimore commuters and allows local businesses to flourish.
If you live or work in Towson, Elite Lock Solutions is the local ally you need. As licensed residential and commercial locksmiths, our highly trained team aims to boost your security, mend lock damage and come to your aid during emergencies. From lock installation to emergency lock out assistance Elite Lock Solutions is the 24-hour locksmith you need in your corner.
We offer an extensive list of lock and key solutions, both residential and commercial.
These services include:
Know who to call if you experience a car lock out. Anticipate and prevent future break-ins with access control solutions. Elite Lock Solutions is the trusted lock and key resource in Towson, Maryland for all your locksmith needs.
Residential and Commercial Locksmith Services in Towson
Disorder is a thief of efficiency and often sparked by lack of preparation. The same can be said during moments of crisis. Waiting until a lock and key emergency occurs will generate stress and cause impulsive decision making. It is imperative that you operate with a proactive mindset and identify vital resources needed for future emergencies.
In the context of residential or commercial locksmith services, proactively distinguishing a reliable provider in your area will ensure the security of your household or business. Additional security measures reduce the likelihood of errors to occur, such as keyless entries or buzzer systems. Elite Lock Solutions is the premiere resource in Towson, Maryland for all your commercial or residential locksmith services.
Auto Emergency Locksmith in Baltimore County
Our expert team offers responsive, efficient auto solutions to assist all emergencies. We understand that auto lock outs are incredibly stressful and aim to ease your worries. After contacting our team, one of our trained technicians will come to your aid as quickly as possible. Call Elite Lock Solutions if you need lost key replacement, full vehicle rekey, vehicle ignition repair, trunk lock repair, auto door replacement, motorcycle lock repair and or other auto-related services.
Towson Emergency Lockout Assistance
Whether you're locked out of your home or cannot access your office, Elite Lock Solutions can resolve any issue with our elite key solutions.
Our lock picking skills are unmatched. With 25 years of experience under our belt, there's no puzzle we cannot crack. All technicians are state licensed and certified, and value responsive customer service.
Some of our key solution services include key duplication, high security keys, mailbox locks, file cabinet keys, laser cut keys and safe deposit box keys.
Call Elite Lock Solutions
Are you ready to bring your home into the 21st Century? Elite Lock Solutions offers full locksmith services for your home, business and auto. We also sell and service safes and offer emergency service, 7 days a week. Servicing the areas of Baltimore City, Baltimore County, Frederick County, Howard County, Carroll County, Anne Arundel County, Prince George's County, Montgomery County, Washington DC, and Northern Virginia. Call us at (833) 354-8395)and follow us on Facebook, Twitter, and LinkedIn!