Silver Spring
Licensed Commercial and Residential Locksmith in Silver Spring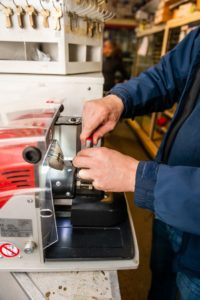 The Montgomery County town that inspired Stevie Nick's 1977 song "Silver Springs" has continued to charm thousands of Maryland residents with its unique urban character and lively commercial center. Downtown Silver Spring is host to the popular Filmore music venue and the coveted AFI Silver Theatre and Cultural Center. Numerous local dining options line the streets and residents enjoy convenient public transportation opportunities that extend to DC. With such a positive allure, it is no wonder that Silver Spring was ranked one of the best places to live in Maryland.
If you need commercial or residential locksmith services in Silver Spring, Elite Lock Solutions is prepared to be your guide. We offer a plethora of services to strengthen your security and solve all lock and key mishaps, including:
Our licensed team of locksmiths are defined by their expertise in the industry and always stay up to date with the latest technology innovations. We value growth and aim to consistently advance our knowledge and skills in order to better help our customers.
Contact Elite Lock Solutions today for 24-hour locksmith services in Silver Spring!
Office Complex Locksmiths for Commercial Security
Building management locksmiths are vital resources for Silver Spring businesses. Office functionality is at its peak when the building's doors and hardware are fully secure and structurally sound. Commercial enterprises require entries with restricted access. Additionally, these doors must be easily modified to adapt to staffing changes or company relocations.
Elite Lock Solutions' team of office complex locksmiths has the expertise to accommodate every Silver Spring business and their distinct commercial security needs. Door and hardware installation, replacement, and repair are inevitable for any business and we are the resource you can trust for these processes. We provide assistance for full door replacement, door and frame installation, door closers, pushbars, specialty outfitting, fire rated doors, ADA compliant entry, master keying, lock-outs, apartment building entry, and more.
Master Key Systems in Montgomery County
From lock-outs to key duplication, Elite Lock Solutions is equipped with expert knowledge to fix all lock and key issues for your home, business, vehicle or safe. Our key solutions include rekey locks, residential keying, commercial keying, high security keys, mailbox locks, file cabinet keys, unusual keys, laser cut keys, auto transponder keys, safe deposit box keys and more.
Top-notch professionals, our team will help you reclaim access to your building and troubleshoot errors.
Call Elite Lock Solutions
Elite Lock Solutions offers full locksmith services for your home, business and auto. We also sell and service safes and offer emergency service, 7 days a week. Servicing the areas of Baltimore City, Baltimore County, Frederick County, Howard County, Carroll County, Anne Arundel County, Prince George's County, Montgomery County, Washington DC, and Northern Virginia. Call us at (833) 354-8395)and follow us on Facebook, Twitter, and LinkedIn!