Hunt Valley
Licensed Locksmith in Hunt Valley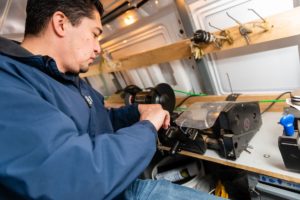 East of Maryland's horse country, you'll find the town of Hunt Valley. This Baltimore County community earns its name recognition as the site for the annual steeplechase horse race, the Maryland Hunt Cup Championship.
If you are a resident of Hunt Valley and seek locksmith services, Elite Lock Solutions is the local lock and key expert you can trust. Eliminate future security risks with our access control solutions or call one of our state licensed technicians for emergency lock out assistance. We specialize in both residential and commercial locksmith services, aiming to support the Hunt Valley community to the best of our ability. Some of these vital services include:
Contact us today to learn how you can protect your home and business security with locksmith services.
Door and Hardware Solutions for Hunt Valley Businesses
Local businesses in Hunt Valley should prioritize their office security with efficient lock and key services from a reputable provider. Elite Lock Solutions is a leader in the locksmith industry due to our highly skilled team, advanced services, and top notch customer care.
Our building management locksmiths are state certified and committed to strengthening the commercial security of your office with state-of-the-art features. Incorporating innovative access control features into your building management system will protect company assets and ensure employee safety. From card readers to electric strikes, Elite Lock Solutions is equipped to boost your defense from potential intruders with the latest technological advances.
Among these features, key fobs, high security locks, buzzers systems and rekey locks also made the list. Key fobs limit building access and can even be applied to specific rooms. These restrictions assure that confidential documents are only accessible to appropriate parties. Additionally, such measures increase employee safety, which consequently improves company morale.  
Emergency lockout services in Hunt Valley
Emergency lockout is the service that is most commonly associated with the locksmith industry. Elite Lock Solutions understands the tremendous stress that office, car or home lock outs can cause and aims to alleviate this anxiety for our customers. Connecting with our responsive, efficient locksmith technicians is the best course of action for a quick remedy to your lockout. We are quick responders with decades of experience in the industry. Our company vehicles are distinctly marked with the Elite Lock Solutions logo and we operate with clear, professional communication.
Auto Locks Solutions
Being locked out of your vehicle impacts your safety and requires a timely response. Without proper transportation, your carefully structured agenda for the day comes to a screeching halt. Productivity is put on pause until a solution is found and your vehicle becomes accessible once again.
Elite Lock Solution technicians use their years of experience and knowledge to access your vehicle quickly and put your schedule back on track. These auto solutions include lost key replacement, vehicle ignition repair, remote car entry, auto door lock repair, trunk lock repair, trunk lock replacement and more. Prioritize your automotive security with Elite Lock Solutions.
Call Elite Lock Solutions
Are you ready to bring your home into the 21st Century? Elite Lock Solutions offers full locksmith services for your home, business and auto. We also sell and service safes and offer emergency service, 7 days a week. Servicing the areas of Baltimore City, Baltimore County, Frederick County, Howard County, Carroll County, Anne Arundel County, Prince George's County, Montgomery County, Washington DC, and Northern Virginia. Call us at (833) 354-8395)and follow us on Facebook, Twitter, and LinkedIn!