Columbia
Columbia's Premiere 24-Hour Locksmith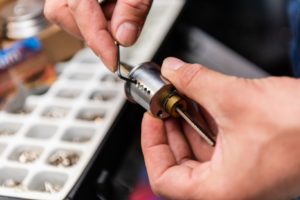 Elite Lock Solutions presents unmatched residential and commercial locksmith services for the community of Columbia, Maryland. Densely populated and highly affluent, our client base in Columbia has continued to grow throughout the years.
The businesses and homeowners in this region all benefit from the traditional lock and key support that we provide to our customers. Our team is state licensed and draws on knowledge developed from years of experience in the locksmith industry.  Boost the residential security of your home with specialty door installation or employ access control features for your office. Locksmith techniques are constantly evolving to adapt to technology innovations and consumer trends. Our primary services include:
Elite Lock Solutions is your go-to commercial, residential, and automotive security resource in Columbia.
Commercial Security
The significance of security prioritization for commercial businesses cannot be overlooked. It is incredibly important to ensure that your company information is protected, and that employees are safe from intruders. Staff morale and productivity will continue to thrive in response to these security enhancements.
We install several access control features that aid building security, such as key fobs and card readers. Entry restrictions allow the company to monitor visitors and limit information exposure. These security measures hold tremendous weight in the overall security of your business.
Commercial keying is another essential service for all corporate clients. Establishing a master key system will increase the building's security strength and support the access control features. The front building entry isn't the only office element that would benefit from commercial keying. File cabinet keys, mailbox locks, safe deposit box keys and laser cut keys all provide additional security within the office.
Residential Security
The physical attributes of your home, such as the doors and hardware, impact the strength of the residential security. Our building management locksmiths encourage efficient door handle installation and repair. Doors and additional home hardware should be frequently inspected and assessed for repair, in order to ensure your home is operating at peak functionality.
Some of our doors and hardware installation options include hinges, locks, deadbolts, pushbars, door closers, and fire rated doors. If applicable, we offer full door replacement and lock changes.
Supporting the doors and hardware installation, residential keying is an important resource for proper home security. We offer a variety of key types such as hand-manufactured keys and antique furniture keys. Key duplication is a proactive step that prepares homeowner's for potential lockouts.
Automotive Security
Emergency car lockouts, vehicle ignition repair and auto door lock replacement are just three of our prominent auto solution services. Elite Lock Solutions uses a wide array of lock and key services to enhance your automotive security. State licensed and certified, our team will come to your aid to perform timely automotive services during emergencies.
Call Elite Lock Solutions
Are you ready to bring your home into the 21st Century? Elite Lock Solutions offers full locksmith services for your home, business and auto. We also sell and service safes and offer emergency service, 7 days a week. Servicing the areas of Baltimore City, Baltimore County, Frederick County, Howard County, Carroll County, Anne Arundel County, Prince George's County, Montgomery County, Washington DC, and Northern Virginia. Call us at (833) 354-8395)and follow us on Facebook, Twitter, and LinkedIn!